The call for proposals for the 46th IAMSLIC Virtual Conference
Changing Tack: Adjusting our Sails to Navigate Uncertain Waters is now open!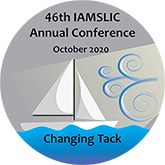 Conference date: 13-14 October, 2020
Deadline to submit proposals Monday, 7 September, 2020.
All accepted proposals will include free conference registration for the presenter(s). 
The deadline for submission of the draft full paper will be on Monday, 5 October, 2020.
More
https://iamslic.wildapricot.org/conf2020/proposals